An exclusive interview with Katie Snalune - Head of Hospital at Newnham Court Equine Clinic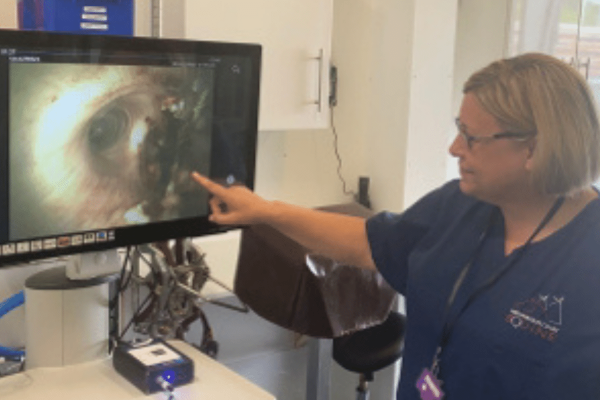 Why did you chose MED Equus?
We chose MED Equus because we had received outstanding service when renting equipment previously. We felt comfortable investing in equipment that we knew would get the back up support and service a busy vet clinic needed.
What product did you purchase and why?
We initially purchased the shockwave machine and diode laser. As the practice expanded and we required more equipment to cover a need for both ambulatory and hospital equipment, we purchased the respiratory scope and gastroscope.
How have you found using the MEDView DV Gastro and MEDView DV3 Airway and why?
We needed equipment that works in a busy hospital as well as transitions seamlessly to the ambulatory setting. In clinic, the trolley and large screen are professional, quick and easy to use. The picture quality is great and the screen size makes it very useful for teaching students. Linking up images to our practice management system ensures quick access to data for vets on the road at reassessments. Battery operated with a screen, that can be set up on a stable door, makes ambulatory work efficient and simple, and clients love having a clear view. The wheeled cases are light and portable, look professional and are compact when fitting into an already full vet's car.
How has the service and support been?
No other company supplying veterinary equipment has come anywhere close to the level of customer service that is provided by MED Equus. They are professional, knowledgeable and personable, and nothing is too much trouble. It is clear they really care about the service you receive.
The training from Michael and Martin has been brilliant and the addition of the E-learning portal with short useful videos ensures the whole team can get trained up quickly on all the equipment.
We're grateful to Katie for letting us interview her about her experience using the MEDView equipment. If you would like to find out more about Katie, you can visit the clinic website here.